B+B at Home with Helmut and Johanna Kandl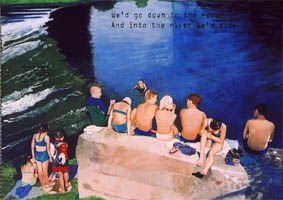 photo: Untitled (we'd go down to the river) 150 x 115 cm, tempera/wood, 2003. Courtesy Galerie Christine König, Vienna
Opening event: Join B+B and Helmut and Johanna Kandl to celebrate the opening of the final B+B at Home project, 'From Baghdad to Babylon' on Tuesday 19 August, 1830h at the Austrian Cultural Forum.
Free drinks and Baklava will be served!

Exhibition: From Baghdad to Babylon
20 August–26 September 2003
B+B is pleased to present a recent project 'Auf der Insel Bella Lella (On the Island Bella Lella)' by Helmut and Johanna Kandl containing paintings (Johanna) and video works (Helmut).
Have you ever travelled to the Middle East?
As part of their exhibition, the Kandl's will be collecting photographs of travels to the Middle East. Do you have snapshots of your journeys? Please send or bring your photos to the Austrian Cultural Forum. Originals will be scanned and returned and all contributors will receive a signed graphic by the artists.

Discussion: Helmut and Johanna Kandl will discuss From Baghdad to Babylon on Thursday 4 September at 1900h at the Austrian Cultural Forum.
'From Baghdad to Babylon' is realised in cooperation with Galerie Christine König, Vienna.
click here for further information.

Past B+B at Home residencies and events:
click here for B+B at Home in March with events by Monica Balint, Katalin Timar and Paula Rousch
click here for B+B at Home in April with artists' in residence Halt + Boring
click here for B+B at Home in May with artist in residence Tadej Pogacar of the P.A.R.A.S.I.T.E. Museum of Contemporary Art
click here for B+B at Home in June with Moira Zoitl and Ralf Hoedt and B+B at the Prague Biennale
click here for B+B at Home in July with Edina Husanovic
click here for B+B at Home in July with artist in residence Siggi Hofer
click here for B+B at Home in August with Artpool
About B+B at Home
Visual arts at ACF continues until September 2003 with a hosting project by B+B (Sarah Carrington and Sophie Hope). This project extends the residency programme initated by the ACF Visual Arts Programme with the Office of Anti-Matter and Klub Zwei in 2001 and continued in 2002 with visits from Umelec, Museum in Progress and Dezentrale Medien.
B+B are inviting artists and curators from central Europe to take part in an informal programme of screenings, artist's presentations, talks and discussions. They aim to provide a networked space and a catalytic environment where artists can consider the opportunities and problematics of politically engaged practice on the threshold of EU enlargement.
Since 2000, B+B have developed a discursive curatorial practice which supports artists and their collaborators in situations ranging from residencies and community-based projects to acts of consultation and activism. For the duration of B+B at Home, the gallery space at the ACF will be their office, their archive and meeting room and is designed in collaboration with architects Greg Epps and Samson Adjei.
Participating artists have been invited to use the space to develop their practice and to connect with local networks, transforming the ACF into their base and working space. Together with their guests, B+B are investigating approaches to the translation of art practices which reflect a specific social and political context. They invite lively discussion and involvement from their London audiences.

click here if you want to know what Anthony Auerbach is doing
click here if you would like to be kept up to date by email
click here for B+B project history
Past Residencies
click here for Office of Anti-Matter
click here for Klub Zwei
click here for Umelec
click here for Museum in Progress
click here for Dezentrale Medien
Anthony Auerbach
I shall be taking a break from programming and organising to concentrate on my own work, but don't be surprised if evidence of my being side-tracked, enthused or seduced comes to light. There will also be some work to do behind the scenes aimed at securing the ACF visual arts programme as an artistically independent international platform for contemporary art and realising the potential we have demonstrated since 1999.
click here for information on extracurricular activities.