news release: November 2002
International Necronautical Society
Second First Committee Hearings: Transmission, Death, Technology
Saturday 16 November 2002, 1500h
free admission to the public
Cubitt, Gallery and Studios, 8 Angel Mews, London N1 9HH
INS First Committee Delegation:
Tom McCarthy (General Secretary)
Anthony Auerbach (Chief of Propaganda)
Zinovy Zinik (Extra-mural Assessor)

Witnesses:
Heath Bunting (retired artist)
John Cussans (writer and cultural theorist)
Ken Hollings (novelist)
Cerith Wyn Evans (artist)
Jane Lewty (researcher)
Manu Luksch and Mukul Patel (ambientTV.net)

The First Committee of the International Necronautical Society has called a public hearing in preparation for its planned radio transmission project. A range of practitioners and theorists with special knowledge and expertise in the fields of sound, wireless electronic communication, cryptography and broadcasting will be examined by a delegation of the INS First Committee. Their statements will be recorded and analysed as the INS Communications and Encoding Group begin to configure the future INS station.
We've been looking at the lines of code transmitted over the wireless by the poet Cégeste just after he was killed in a road accident. The messages are picked up by Orphée on his car radio, in the dead zone between stations. Now, Orphée is the most celebrated writer in the world, but he knows that just one line of Cégeste's blows his work out of the water: 'Jupiter rend sage ceux qu'il veut perdre. Une fois. Je repète: Jupiter rend sage ceux qu'il veut perdre. Deux fois. Je repète ...' The broadcasts are modelled on British agents' or Resistance transmissions from occupied France. Obviously, that's an important reference for Cocteau in the fifties. 'These are transmissions coming from an other place, i.e. death, full of cryptic meanings which they parade right in front of you, but without giving you the key that would decode them. That's great. Our own Communications and Encoding Group could learn a lot from that. That's why we're holding these Hearings: to work out how best to set up our own transmission unit and what to put out over it.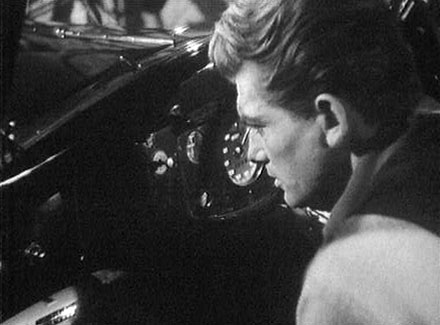 Messages are picked up by Orphée on his car radio, in the dead zone between stations.
(Image from Jean Cocteau's
Orphée)
Press Accreditation
Owing to limited space available for press and public, ONLY accredited reporters will be admitted to the Press Area. To obtain your accreditation, please contact Anthony Auerbach stating your name and your newspaper or journal. A press pass will be prepared for you. Please note that photography, audio- or video recording will not be permitted. Official photography will be made available through Vargas Organisation to accredited reporters. Transcripts will be made available after the INS Communications and Encoding Group has completed its analysis.
Please find below additional information on the people taking part in the Hearings. For more background information, please see http://www.necronauts.org or contact the INS General Secretary Tom McCarthy
The Witnesses
Heath Bunting is a 'retired artist' who emerged from the 80's committed to building open/democratic communication systems and social contexts. Besides setting up radio projects such as Radio 90, EMI (Electromagnetic Installation) and Cellular Pirate Listening Station, he has also been involved in mobile phone and fax/mail art. He has produced many internet projects, some highly recognised, and has helped form a strong context for the practice of net.art. Recently, he has moved into the field of genetics, proclaiming it to be the next 'new media', and is also developing work in the area of physical network performance.


http://www.irational.org
John Cussans is a writer and cultural theorist. As co-initiator of The London Bughouse, an ongoing art project revolving round the writing and ideas of author Philip K. Dick, he has extensively explored the relationship between telecommunications and death, incorporating his research into a series of performances and networked, semi-fictitious 'events'.


http://www.globlocal.com/bughouse
Cerith Wyn Evans has worked with a wide variety of media, including film (he worked with Derek Jarman), mirrors, neon lights and even fireworks. Spelling out Situationist and Marxist slogans in this last medium, he has created what have been described as 'subtitles for an unseen narrative incorporating translation and a distortion of the original meaning.' His mirror work Inverse Reverse Perverse, included in the Royal Academy's 1997 Sensation exhibition, also involves linguistic translation and inverted representation. In his 2002 work Cleave 00, shown at Tate Britain, he had passages of Blake's writing randomly selected by computer, translated into Morse code and refracted off a large mirror ball -- a technique he replicated in Documenta XI using passages from George Bataille's The Accursed Share. He is currently working on transmitting sound from crystal chandeliers.
Ken Hollings is a novelist who has written on sound and transmission networks for a number of publications including The Wire and Sight and Sound. He has also written widely on the viral broadcast theories of William S. Burroughs. In collaboration with electronic composer Huib Emmer he is currently producing Welcome to Disturbia, which will be broadcast on Dutch Radio in December 2002. His novel Destroy All Monsters is published by Marion Boyars.
Jane Lewty is a researcher in Literature at the University of Glasgow. She has written widely on the impact of radio — and in particular of the wartime transmissions of Lord Haw Haw — on modernist writers such as Ezra Pound, Stephen Spender and Virginia Woolf. She recently spoke at the James Joyce Biennial Symposium in Trieste on the relation between Joyce's Finnegans Wake and Raudive's EVP Experiments.
Manu Luksch and Mukul Patel have worked on a series of projects using sound and networked media, including Stealth Waltz (Ars Electronica), Karaoke Busking (White Space Gallery), Telejam (Public Life/radio FRO) and Acoustic Space Lab VR (in which twenty-five media artists generated work from the Latvian site of a Soviet-era 32-metre dish antenna formerly used to spy on satellite transmissions between Europe and North America). They are currently developing a telematic theatre piece, flipflop, using WLAN and live streams, with New York-based motion poet Ajay Naidu. Patel's primary medium is sound, which he attempts to sculpt into novel and resonant textures. For many years he worked with Talvin Singh as part of the Anokha and Calcutta Cyber Café collectives. Currently he collaborates extensively with dancers, writes on science and technology (and their intersection with the arts) and studies the classical music of India. Luksch is a film maker who works outside the frame. With an academic background in Fine Arts (Vienna, Bangkok) and the Artistic Directorship of the Munich Media Lab behind her, she began to conceive and produce interdisciplinary projects related to media and net culture. She founded ambientTV.net as a platform for the investigation of generative networks in both social and technical senses.


http://www.ambienttv.net
International Necronautical Society First Committee Delegation
Tom McCarthy is General Secretary of INS
Anthony Auerbach, INS Chief of Propaganda (Archiving and Epistemological Critique) is an artist.
Zinovy Zinik, Extra-mural Assessor, is a novelist and broadcaster. Born in Moscow, Zinik has lived in London since 1976, where he is editor and presenter of the BBC's West End Radio Review. His seven novels, which have been translated into several European languages, include Russian Service, set in a fictitious émigré radio station, and Sounds Familiar (a New Frankenstein), which deals with the transformation of sound into matter. His novel The Mushroom Pickers was serialised by the BBC in 1994. He is also founder, in collaboration with the New York-based Russian artists Komar and Melamid, of the Safety Pin Society of Great Britain.
The INS Second First Committee Hearings will take place in an environment designed by Laura Hopkins, previously set designer for among others the Globe Theater and English National Opera.

International Necronautical Society


Calling All Agents


images for press use


archived news releases and press photos
---
Issued by Anthony Auerbach, INS Chief of Propaganda (Archiving and Epistemological Critique) via official agents.
Official INS propaganda may be freely distributed, distorted, appropriated or adapted as the reader sees fit.