news release: July 2004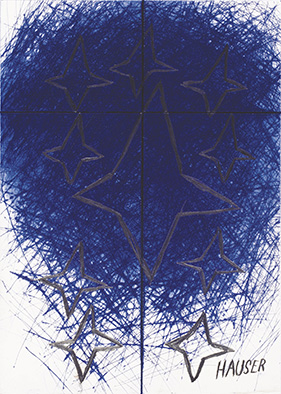 Hauser/Rainer: Parallel Visionaries
Exhibition
7–30 July 2004
Monday–Friday, 0900–1700h, admission free
Austrian Cultural Forum, 28 Rutland Gate, London, SW7 1PQ
Tel 020 7584 8653
Underground: Knightsbridge/South Kensington
Tuesday 6 July 2004, 1700h:
Arnulf Rainer in conversation with Roger Cardinal and Johann Feilacher,
free talk followed by exhibition opening.
This exhibition of works by Arnulf Rainer (b. 1929) and Johann Hauser (1926–96) represents a graphic dialogue between one of the leading figures of post-war art in Austria and one of the few so-called 'outsider' artists to have achieved an international reputation in his own lifetime.
Rainer's early fascination the art of the insane was stimulated by the Surrealists and their interest in unconscious, ecstatic and psychotic states. His intensive engagement with the phenomena and literature of psychopathology and 'art brut' lead him to experiment with means of inducing or stimulating psychotic states in photography, painting and drawing. It was in this period that Rainer developed his methods of overdrawing and overpainting, where he made gestural interventions on existing images. Rainer used photographs of and by himself as well as images by others, for example: the series of overdrawings on photographs of the 'Character-heads' of the Austrian Baroque sculptor Franz Xaver Messerschmidt (1975–76). Rainer's interest in dialogue and collaboration also included works with the Actionist artist Günther Brus and the avant-garde film maker Peter Kubelka.
Towards the end of the 1960s Rainer got to know Leo Navratil, the pioneer of art therapy at psychiatric hospital at Gugging and founder of the House of Artists, who introduced him to Hauser and his work. The collaboration between Rainer and Hauser took place 1994–95.
Hauser, who suffered from manic depression, was hospitalised since the age of 17 and lived at the Gugging institution where he was encouraged to draw by Navratil. Most of his work was produced in his manic phases. The dominant images in his drawings are of flying machines, religious figures, women and the starry sky. In his images of women, child-like graphic forms and meticulous colouring display uninhibited sexual fantasy, as was also reflected in other aspects of his behaviour during manic phases. Hauser's drawings were admired both for their apparently raw expression and for their formal qualities.
Hauser at first refused to work with Rainer on collaborative works as Rainer had done with fellow artists, but agreed to exchange graphics for overdrawing. The exhibition, curated by Clara Ditz, shows some of the results of this exchange and works by Rainer and Hauser on shared themes.

archived news releases and press photos