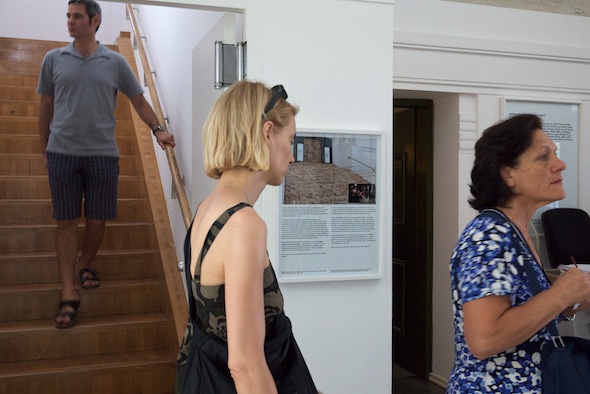 Wegen Schambehaarung geschlossen (Closed Because of Pubic Hair), historical notice, 40 x 52 cm (installation: Secession, Vienna, 2010)

This work was installed in the Lobby when Letting My Hair Grow (Draußen wachsen [Growing Outside]) was hanging outside in the portal. It refers to Haring's 2009 installation Marlene Haring: Wegen Schambehaarung geschlossen (Closed Because of Pubic Hair). The text reads as follows:
The iconic Art Nouveau pavilion designed by Joseph Maria Olbrich for the Vienna Secession Association of Visual Artists was opened on 29 October 1898. The famous inscription above the portal 'For every time its art. For art its Freedom' was removed in 1908, but restored in 1963, when the war-damaged building was rebuilt.
From October 2008 to April 2009, the Secession invited artists and theoreticians to speak on the theme 'Which Freedom?' enquiring, 'How claims to the freedom and autonomy of art can be maintained in a society that is undergoing fundamental change. How have artistic practices changed in the face of global capitalism, and what are the consequences of the growing divide between those artists who profit from the new economy and those who don't? Has the freedom of art not in fact assumed an independent reality in our society? What are the implications for how artists understand their work, and what options for action does this entail?'
A lecture by Marlene Haring on 6 April 2009 was announced with the title 'Wegen Schambehaarung geschlossen' (Closed Because of Pubic Hair). On arriving, the audience was informed that the Secession was indeed closed because of pubic hair, and that 'zwangloses Gespräch' (informal discussion, literally: unforced speech) would take place in a nearby café.
After all, what authority permits an artist to lecture people about freedom?
Der von Joseph Maria Olbrich entworfene ikonische Jugendstilpavillon für die Vereinigung Bildender KünstlerInnen Wiener Secession wurde am 29. Oktober 1898 eröffnet. Der berühmte Wahlspruch der Secession über dem Portal "Der Zeit ihre Kunst, der Kunst ihre Freiheit" wurde 1908 entfernt und 1963 wiederhergestellt, als das Gebäude wiedererbaut wurde.
Von Oktober 2008 bis April 2009 lud die Secession KünstlerInnen und TheoretikerInnen im Rahmen der Vortragsreihe "Welche Freiheit?" ein, sich damit auseinanderzusetzen, "wie sich künstlerische Freiheits- und Autonomieansprüche innerhalb einer sich grundlegend verändernden Gesellschaft weiterhin behaupten lassen. Wie hat sich die künstlerische Praxis angesichts des globalen Kapitalismus verändert und welche Auswirkungen hat die zunehmende Trennung zwischen jenen Künstlerinnen und Künstlern, die von der neuen Ökonomie profitieren, und jenen, die das nicht tun? Hat sich die Freiheit der Kunst nicht vielmehr in unserer Gesellschaft verselbständigt? Was bedeutet dies für das Selbstverständnis der Künstlerin und des Künstlers und welche Handlungsoptionen ergeben sich daraus?"
Marlene Harings Vortrag für den 6. April 2009 wurde mit dem Titel "Wegen Schambehaarung geschlossen" angekündigt. Das zum Vortrag kommende Publikum wurde darüber informiert, dass die Secession tatsächlich wegen Schambehaarung geschlossen bleiben musste, und wurde zum zwanglosen Gespräch in eine nahes Cafe-Restaurant umgeleitet.
Denn was für eine Instanz erlaubt es KünstlerInnen, das Publikum über Freiheit zu belehren?

return to works