Demonstrating some of the possibilities, strategies and discourses that have developed since VALIE EXPORTís pioneering actions spread 'Genital Panic' in the 1960s. Exhibition put together by Marlene Haring and Anthony Auerbach as part of a season of exhibitions, events and films on the occasion of VALIE EXPORT's retrospective exhibition at Camden Arts Centre, London (until 7 November 2004).
Read a review of the exhibition
Opening: Thursday 7 October 2004, 1900h, free
Burn the Bra: performance by Ursula Martinez
Exhibition: 8 October–12 November 2004, Monday–Friday 0900–1700h, free
Katherine Araniello, Marlene Haring, Anna Jermolaewa, Elke Krystufek, Mikki Muhr, Sands Murray-Wassink, Julia Wayne, Carey Young
Discussion: Saturday 9 October 2004, 1100–1800h, free
Feminism dont'stop, I can't live if you stop: Female Consequences All Day Breakfast
Artist info
Katherine Araniello, Female Consequences, Marlene Haring, Anna Jermolaewa, Elke Krystufek, Ursula Martinez, Mikki Muhr, Sands Murray-Wassink, Julia Wayne, Carey Young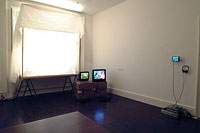 Images
view installation photos
press information/images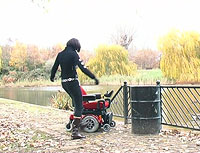 Katherine Araniello
'My work questions and subverts notions of what is considered "normal", utilising subversive humour. My objective is to highlight the absurdity of responses towards physical difference in clichéd situations.
'Through video I use disability as a reference point to produce an atypical perspective on disability that does not fit the tragic, brave or politically correct representation.
'A medical model representation excludes images of equality and emancipation by portraying people solely as victims who elicit pity. The person becomes inferior, genderless and asexual. Why is "difference" so often construed as "tragic"?
'In my practice I undertake to produce work that challenges and subverts notions of difference through a torrent of scenes excelling in absurdity, irony and humour.'
http://www.araniello-art.com
Female Consequences
Female Consequences comprises a number of events such as symposia, workshops, lectures, exhibitions, publications and festivities, all of which are conceived and organised in co-operation with other women (and men). The individual projects are developed and realised within their specific geographical and historical contexts. Female Consequences understands itself as a feminist and anti-racist intervention into the existing discourse on art-, music- and cultural politics. Among others, the focus of our interest and work is on the following: theory and practice of pop music, with particular consideration of the creative potential of female DJs and producers; the examination of different kinds of sexuality and gender; the use of the notion of "whiteness" is to bring about a shift in anti-racist discourses towards a focus on white colour and "white" culture; establishing and further developing collective working structures and processes of decision making in the field of culture.
http://www.female-consequences.org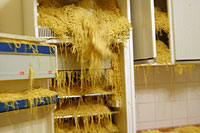 Marlene Haring
'Marlene Haring: proper n., accumulation or heap of cells, born when others were already dead, educated and entertained as founding member of Halt+Boring (a notoriously ridiculous collaboration with Cati Bolt, 1999–2003, producing landmark pieces such as Corrections and Call Boys before it split up), synonyms: see under Heidi Gehry, antonyms: see under lock. See also: nuance, nudism, naked truth, cruise, caution, crisis (the point of time when it is to be decided whether any affair or course of action must go on, or be modified or terminate), trick.'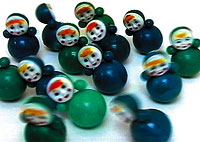 Anna Jermolaewa
Anna Jermolaewa's video and photographic work deals with the functioning of society, its social relationships and everyday habits, using the bodies of humans, animals and toys as a means of investigating and externalising wishes, conflicts and fears. In the video Three Minutes of Trying to Survive, a group of rocking dolls begins to sway, moved by an invisible and irresistibly increasing force until one by one they are thrown from view with loud crashes.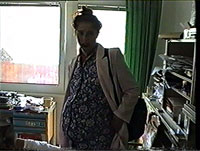 Elke Krystufek
Elke Krystufek's paintings, photographs, videos and installations revolve around an almost obsessive self-portraiture: the personification or interrogation of the self. Her own body is naked, masked, inscribed and costumed in a multitude of ways, both confessional and challenging.
In the video Same Time, Next Year (1997–2003) Elke Krystufek plays both parts of the two-person drama by Bernard Slade, which was a big success on Broadway in the 1970s. The comedy describes the effects of an affair lasting for 26 years on the couple that meets in a hotel once a year. The protagonists go through various economic phases, from social advancements to collapses of their careers against the background of the hippie movement and the Vietnam War. The global hierarchy of power is confronted with private hierarchies of power.
The video The Naked Conference (2004), Elke Krystufek and Sands Murray-Wassink documents a naked public discussion with audience participation about their photo project Elke & Sands: Equalities, Equivalences under feminist viewpoints such as comparisons of female hetersexual and male homosexual body, the generation gap, the history of performance, references to art and media theory, sexual practices, illnesses, fitness, female and male gaze, voyeurism, music, nationality, autobiography, pornography.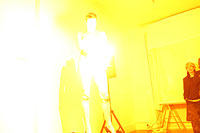 Ursula Martinez
Ursula Martinez has worked with several leading experimental theatre companies including Insomniac Productions, The Glee Club, Forced Entertainment and Duckie, with whom she is an associate artist. Combining her experimental theatre background with her experience on the queer cabaret circuit, she has produced a series of acclaimed theatre productions in collaboration with director Mark Whitelaw. A Family Outing (1998 ) and Show Off (2000) have been featured in the Edinburgh Festival and toured internationally. Her latest piece OAP is on at the Drill Hall, London 2–24 October 2004.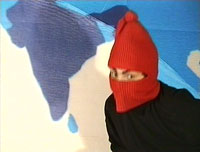 Mikki Muhr
Mikki Muhr humorously discloses a critical relationship to artistic identity and success and delights in revealing the shabby façades and makeshift wish-images of art, media and society. In the video On Air, a woman appears again and again wearing a full face balaclava helmet, singing 'Hu-hu, nobody knows me,' while we also hear the instructions and comments from behind the camera.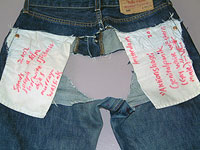 Sands Murray-Wassink
'My work is intimate in my eyes and mind, and dependent on my context, specific person, environment and lived experience ... it is primarily made to add where I feel things are missing in the gay male mind of America, and to critique, comment, and touch on those things I feel particularly taboo and painful in the U.S. mental landscape.'
Sands Murray-Wassink's work on sexuality and identity pays homage to the work of pioneering feminist artists such as Carolee Schneemann and Valie Export and adopts some of their strategies for attacking or overcoming male heterosexual and homosexual inhibitions, prejudices and norms.
The video The Naked Conference (2004), Elke Krystufek and Sands Murray-Wassink documents a naked public discussion with audience participation about their photo project Elke & Sands: Equalities, Equivalences under feminist viewpoints such as comparisons of female hetersexual and male homosexual body, the generation gap, the history of performance, references to art and media theory, sexual practices, illnesses, fitness, female and male gaze, voyeurism, music, nationality, autobiography, pornography.
http://go.to/sands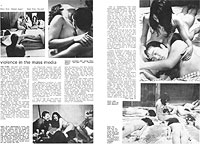 Julia Wayne
Julia Wayne's works deal with the distribution, encoding and consumption of messages and images in public space. She uses appropriation (taking without permission, verbatim quotation) and displacement to shift or alter interpretative contexts. Works such as Discreet Side Entrance (from a sex shop window to the façade of a gallery) and Minicab Rapist Made Victims Pay Fare (from street to interior) deal with pornography and violence and the way they are inscribed in public space. Wayne's 'translations' make holes in the supposed boundaries between the public and private, between spaces of consumption and of critique.
http://www.vargas.org.uk/artists/julia_wayne/index.html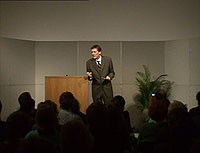 Carey Young
Carey Young's works across a variety of media including photography, performance and video investigate the ideological infiltration of commercial and legal language and habits into public and personal realms. With subtle humour she highlights the eclipse of body and identity by the 'corporate image', the transformation of notions associated with artistic expression into 'performance' and the contractual basis of the reception of art works.
Optimum Performance is a video documenting a recent performance piece of the same name created by the artist for the Whitechapel Gallery in London. Optimum Performance features an actor dressed as a businessman, who delivers a rousing but satirical motivational speech to the gallery audience as if they are group of his own professional colleagues. The piece has a self reflexive core—a performance designed to enhance performance—but can be interpreted simultaneously as a functional tool designed to manipulate the abilities of the audience and as a subtle critique of the institutions and systems of the art world.
http://www.careyyoung.com
Press office/images: Vargas Organisation, London